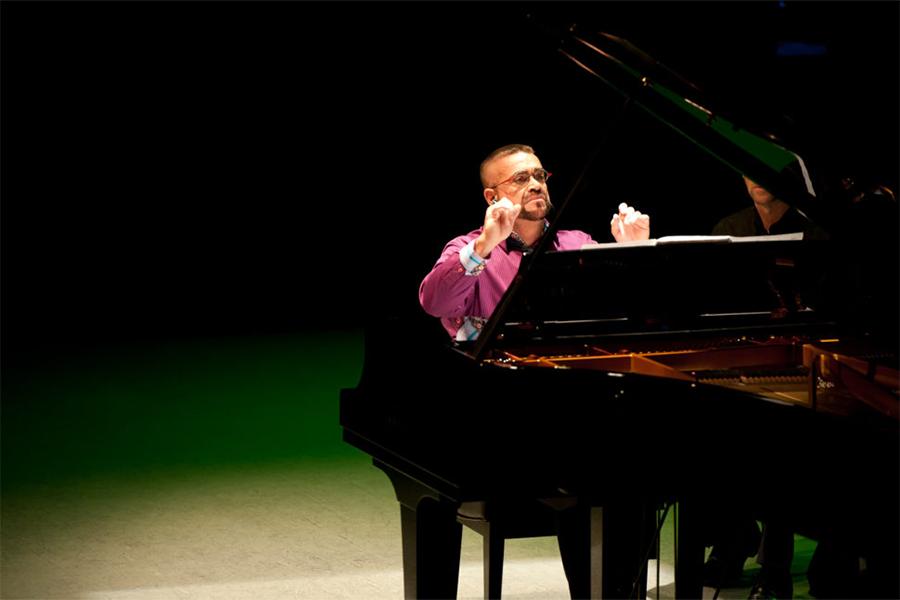 Contemporary Composers Re-Imagine Sondheim Classics
Pianist Anthony de Mare's Liaisons: Re-Imagining Sondheim from the Piano features reworkings of the music of Stephen Sondheim by composers from across the sonic spectrum. After over a decade of work on the project, the final set of commissions was originally to premiere in March of 2020, in celebration of Sondheim's 90th birthday. A week before their scheduled premiere, the world shut down. We are thrilled to at last be able to present these updated classics in performance here at Royce Hall on Sunday, April 10.
De Mare commissioned these pieces to contribute to Sondheim's legacy, helping it spread into new directions. The commissioned composers explored alternate ways of looking at Sondheim's classic songbook, giving their own spins on the songs. For example, Steve Reich's two piano version of "Finishing the Hat" from Sunday in the Park with George has been given what Reich calls "a rhythmic character more in line with my own music and, hopefully, another perspective with which to appreciate Sondheim's brilliant original."
Meredith Monk, in her take on "Poems" from Pacific Overtures, "began by reversing the figure/ground relationship of the original, and used the rhythmic contours of the song's accompanying patterns to create new melodic variations."
Wynton Marsalis's re-imagining of the Follies outtake "That Old Piano Roll" evokes classic jazz pianists: "The basic stride style of James P. Johnson is answered by the jagged, obtuse style of Thelonious Monk. Both find resolution in the ragtime-swing style of New Orleans pianist Jelly Roll Morton."
Andy Akiho's version of the prologue to Into The Woods aims "to orchestrate each character's personality with the use of prepared piano—for example, dimes on the strings for the cow scenes, poster tack on the strings for door knocks and narrated phrases, and credit card string-clusters for the wicked witch… to portray each character's story and mystical journey using exotic piano timbres in place of text."
Each of these pieces, along with the dozens of others, does the important work of defamiliarizing old favorites, of allowing us to hear classic melodies as if for the first time. The depth and breadth of Liaisons boldly makes the case for Sondheim as one of the 20th century's most influential artists. Get your tickets now.