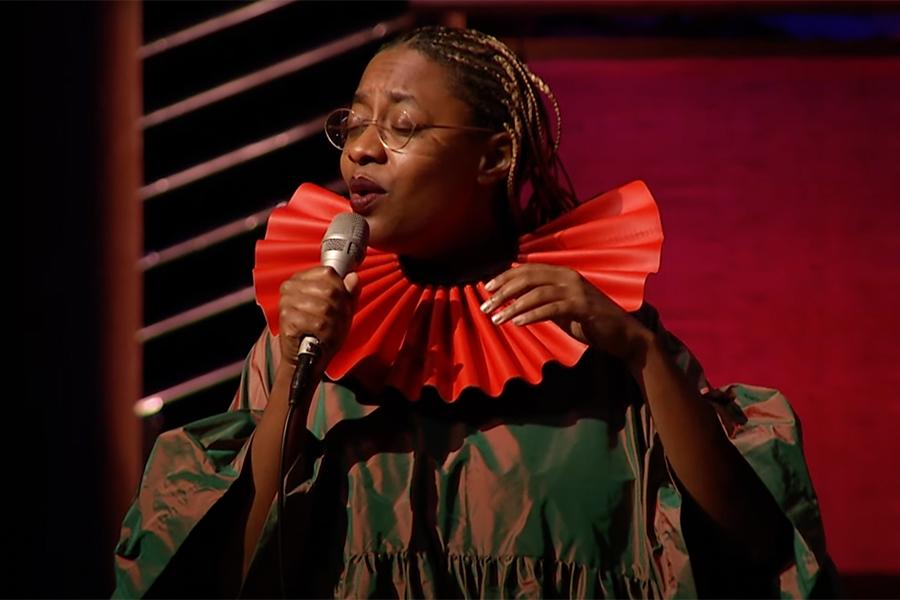 Embark on a breathtaking journey
On Thursday, January 26, Royce Hall will be graced by singer and composer Cécile McLorin Salvant as she performs tracks from her latest album Ghost Song. Her work explores the many ways people can be haunted — by lingering memories, roads not taken, and ghosts real and imagined.
The evocative songs shadow living souls as they confront absence — some characters mourn loved ones gone too soon, while others are troubled by the remains of dwindled romance, and the passing of time. 
These tracks are juxtaposed by reimaginings of songs by Gregory Porter, Sting, Harold Arlen, Kurt Weill and Kate Bush. The album was conceived during the early part of the pandemic and recorded during the lockdown with Salvant's penchant for unearthing rarely recorded, forgotten songs with interesting power dynamics, humor and strong narratives. 
When asked about whether she believes in ghosts herself Salvant expresses, "I'm pretty much a skeptic. I was about to say I don't believe in ghosts, because I'm a materialist — I need to see it. But then again, I'm completely in love with stories, I delve into stories so easily. So, I guess then I love ghosts." 
If that's not enough to entice you, please enjoy her incomparable rendition of Harold Arlen & Yip Harburg's beloved song "Over the Rainbow." Her voice is not one to be missed.