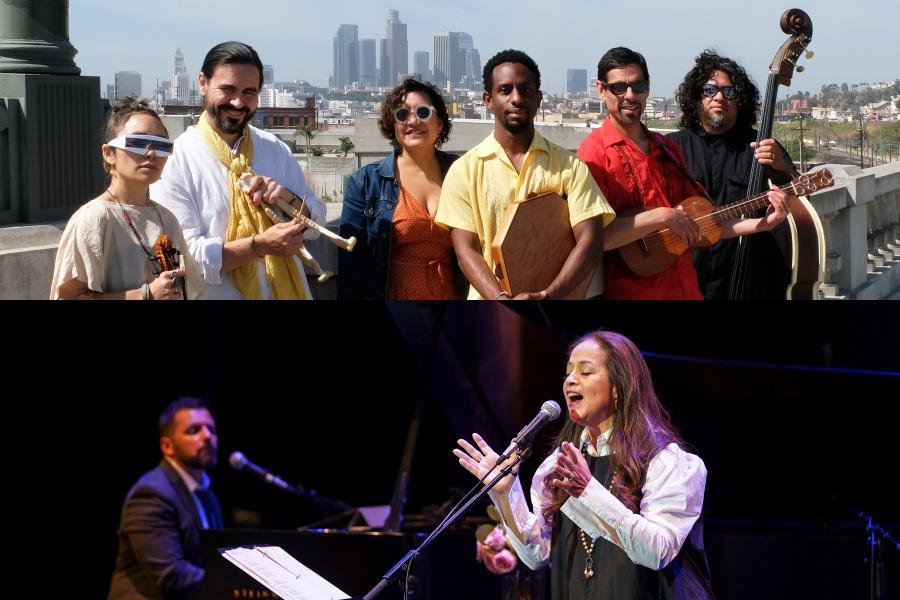 The homegrown sounds of L.A.
Born and raised in L.A., music was an integral part of Perla Batalla's childhood as her mother was a singer and her father a DJ and mariachi musician. In the 70's, Perla's mother also ran the family's record shop in West L.A. called Discoteca Batalla, where she was exposed to an around-the-clock music education. Before her career as a backup singer for Leonard Cohen, she attended the Lee Strasberg Theatre Institute and she eventually founded her own record label, Mechuda Music.
Quetzal Flores, born in Salinas, CA and raised in North East L.A., founded the band Quetzal in 1993 in a Chicano-owned café called Troy Café in the Little Tokyo neighborhood of Los Angeles. The band includes Quetzal's wife and lead singer, UCLA alumn Martha Gonzalez. Musically Quetzal's style is heavily influenced by the traditional music of Veracruz and incorporates other musical influences into the band such as The Smiths, Ruben Blades, and Stevie Wonder. Both Perla and Quetzal draw from their diverse L.A. roots to create music that blends traditional styles with their own unique sound.
Passion through musical activism
Perla Batalla and Quetzal Flores are deeply committed to social justice and using their music to create positive change in their communities. Perla's mission to share the beauty of music and the Spanish language with audiences of all ages has taken her to communities all across the United States. She has been honored with two U.N. awards for advancing social justice through music. Perla's work includes providing music education to incarcerated youth and advocating for immigrant rights.
As a long-time artist with our K-12 arts education program Design for Sharing, Perla has performed in Royce Hall dozens of times — sharing her love of music with thousands of elementary students from across Los Angeles. This year, Perla's musical storytelling will be a springboard for our in-school residency program. Using creative writing and visual arts activities around the theme  "We Sing of…"   4th and 5th grade students from UCLA Community School will examine their own unique voices and experiences; exploring how their stories, music and culture symbolize home. 
Quetzal Flores, whose parents were social justice activists, has been instrumental in developing Fandango Sin Fronteras, a dialogue between Chicanos and Chicanas from California, and Jarocho musicians who play in the Veracruz style. He, as well as other members of the band, have also implemented a traditional music practice called the Collective Songwriting Method in correctional facilities, schools, prisons, detention centers, and college classrooms throughout California, Arizona, and Washington — helping to empower marginalized voices and create a platform for social justice issues.
Share your own reflection of home, history and Identity
Join us on April 29th and witness the power of music, as these two artists share the stage for a rare performance at Royce Hall. 
We'd love to hear your thoughts: what's a song that sounds like home to you? Please contribute here and let us know what inspires you. We'll share all the submissions on our Community Blackboard on the night of the show.
Join us before the show for the Poetry Bureau and Pop-up Bookstore. 
The Poetry Bureau is back, with a poet at every typewriter ready to compose a completely original, custom-made poem. The themes for the night are community, home and familia. Joining us are our friends from Re/Arte Centro Literario, a fantastic bookstore and gathering space dedicated to bringing literature, cultural gatherings, and contemporary art to the Black & Brown communities of East L.A. Discover their eclectic selection of books, curated especially for this event, and gather round the mic to hear local writers and poets read original work from the literary journal, Sin Cesar.  
Doors open at 6:30 pm, grab a drink from the bar or a complimentary coffee and snack from our mesa de postres. Join us as the sun sets for music, poetry and literature. A typewriter is waiting.