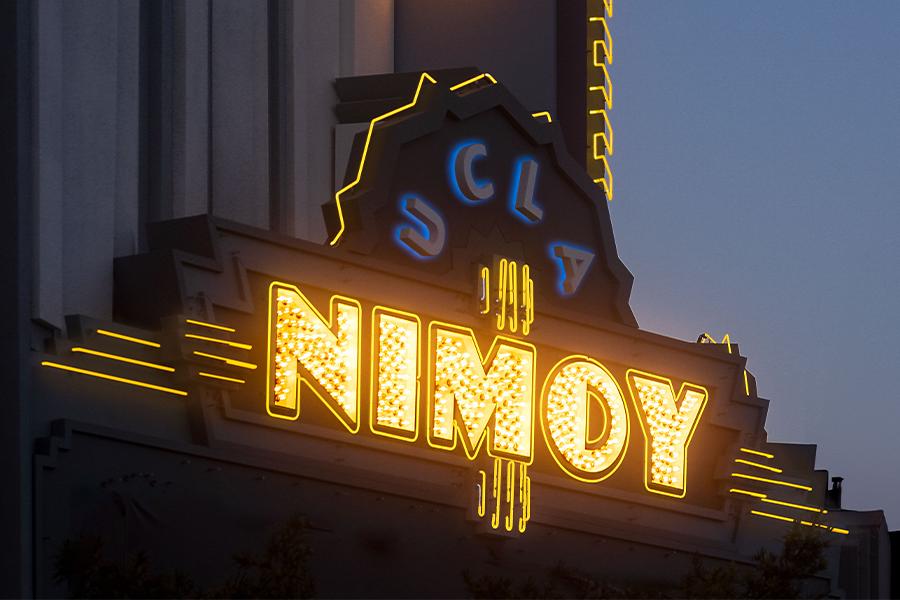 "When I was eight years old, I went to the Crest Theatre on Westwood Boulevard in Los Angeles, and I saw a movie called The 7th Voyage of Sinbad, a Ray Harryhausen picture with stop-motion monsters. Now, this was suspension of disbelief: I was there, I was in that picture, fighting the cyclops on the beach, running from the dragon! I was enthralled. It's one of my strongest childhood memories." 
— John Landis, director of The Blues Brothers and Coming to America
---
After many years of planning and preparation, the historic Crest Theatre in Westwood has been reimagined as the UCLA Nimoy Theater, a flexible, state-of-the-art performance space. Named for artist, actor, director, and philanthropist Leonard Nimoy, The Nimoy is the new home for UCLA's Center for the Art of Performance and will showcase diverse voices and creative expressions in music, dance, theater, literary arts, digital media arts, and collaborative disciplines.
Before its current transformation, the Crest Theatre was a beloved venue for over 70 years — and we now need YOUR help to celebrate its memory! We are collecting fond memories of the Crest Theatre from our community and would love to hear from you.
Have you ever attended a screening or event at the Crest Theatre that holds a special place in your heart? Do you have friends or family members who regularly visited the Crest Theatre and spoke fondly of their experiences? We would love to read your recollections and share them with others who have experienced the joy of the Crest Theatre.
Please provide your fond recollections and (if available) pictures at this Google Form.
Thank you for keeping the memories of the Crest Theatre alive, and please join us for a performance at the new UCLA Nimoy Theater when the 2023-24 season opens on Saturday, September 23, with Grammy Award-winning poet J. Ivy.
Explore The Nimoy's inaugural season!