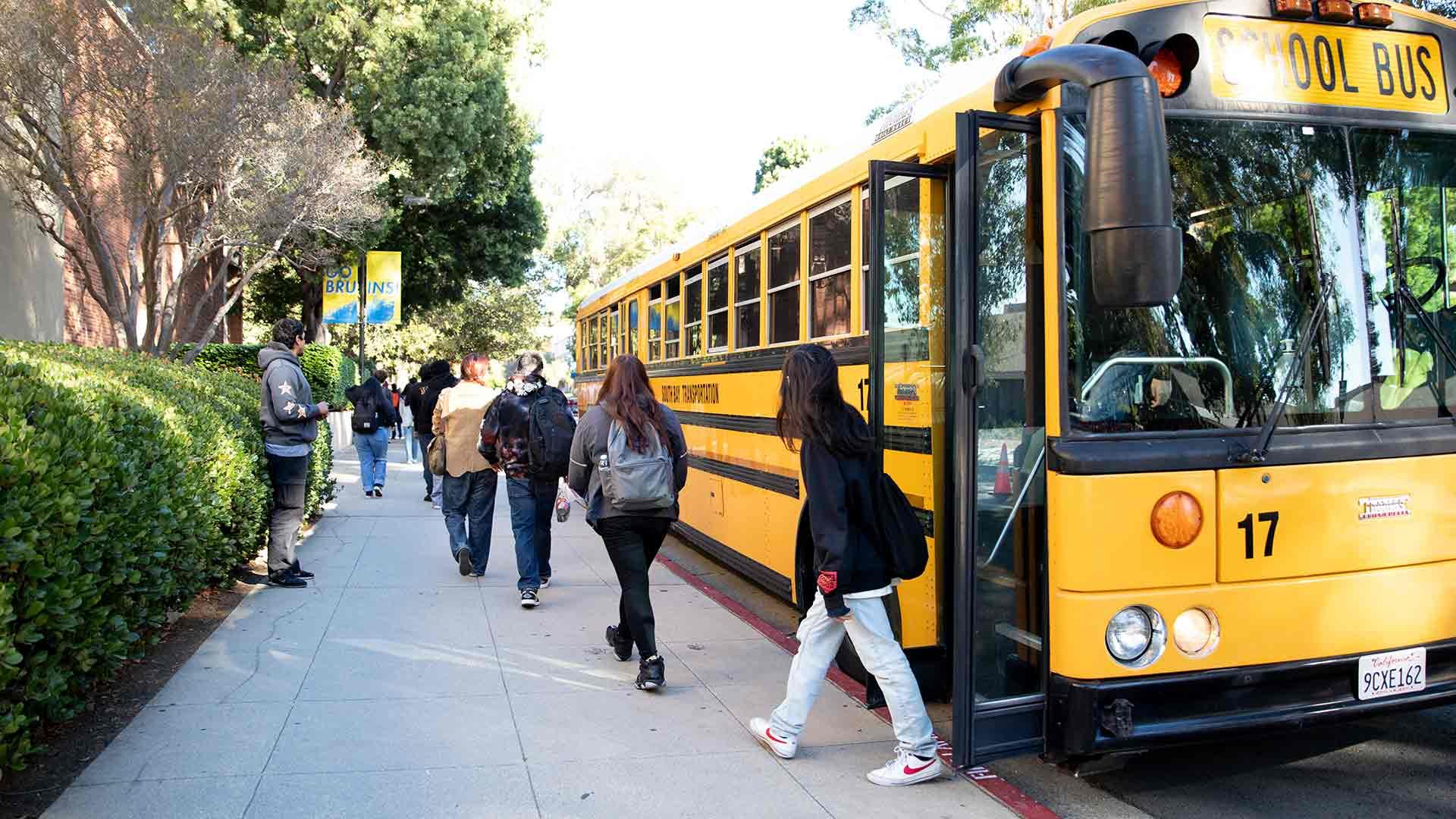 We love seeing students' faces light up when they experience a performance in person, in community, in a beautiful space.
"I loved the performance – it was truly amazing.  I learned that beauty can be seen through music and brings a lot of different emotions to a person. Thanks for bringing us to UCLA and for the bus, and the Royce Hall was beautiful!" — Nicholas, fifth grade
Visiting CAP UCLA can be a transporting — and transformational — moment. But the cost of  transportation makes this impossible for many schools.
Increasing Access to the Arts
Free arts programs like Design for Sharing can be out of reach for schools that cannot afford a bus for a field trip. The DFS Bus Fund helps us ensure that every school has an opportunity to experience the arts with CAP UCLA.
Thanks to generous donors, this past year the DFS Bus Fund provided buses for two thousand students to attend performances on the UCLA campus. From the audible gasp from high schoolers seeing new dance work by CONTRA TIEMPO to the raucous cheering at Get Lit's Poem Off, the Bus Fund makes it possible for us to say yes:
Yes, you are welcome here!
Yes, we will get you here!
A Challenge to Our Community
Next year, we know we'll keep saying yes to the schools that need our help.
On November 29, CAP UCLA will participate in Giving Tuesday, an international day of philanthropy. Our mission for the day is to give as many local kids as possible access to the arts.
We've set an ambitious goal to fund one hundred buses this year, enough for sixty-five hundred public school students to attend our programs.
There is no shortage of amazing causes to support on Giving Tuesday. We hope you'll consider supporting CAP UCLA on November 29 to give kids a lift!