Ellen Reid SOUNDWALK is a free, GPS-enabled work of public art that uses music to illuminate the natural environment. Created by Pulitzer Prize-winning composer and sound artist Ellen Reid, the experience is guided by the listener: the path you choose dictates the music you hear, and no two visits will be exactly the same. After downloading the free app and putting on your headphones, you can explore the park, triggering musical cells that are carefully crafted to harmonize with the park's landscape and attractions. 
"[Ellen] Reid, in a word, has arrived" — Los Angeles Times
Image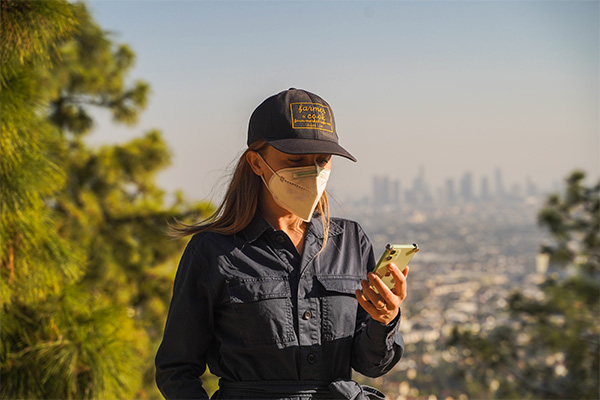 Griffith Park edition
Available now
Griffith Park, Los Angeles
Please download the SOUNDWALK app prior to your arrival in Griffith Park and allow the app to use your location when prompted
As a former Angeleno and CalArts Alum, Reid is "thrill[ed] to collaborate with the very soil of L.A. on this Soundwalk. Having this city at the center of this work means the world." Griffith Park was selected as the locale by both the composer and CAP UCLA, who commissioned the L.A. version of this piece, because of its significance as a beloved and iconic public outdoor space shared and enjoyed by the city's many diverse communities. The newly-written, cinematic score was rendered remotely by a patchwork of artists from across the country and features a world-premiere recording by Kronos Quartet created specifically for Griffith Park.
---
Image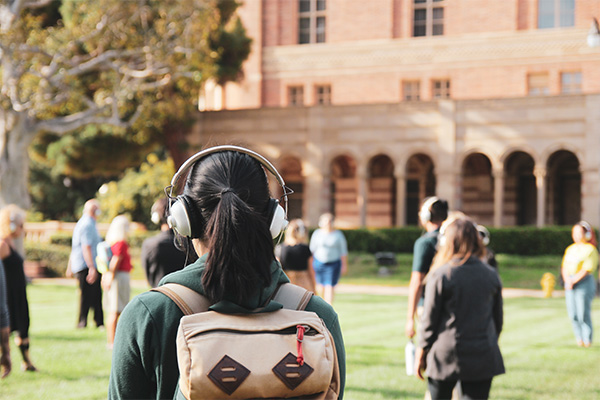 UCLA Campus edition
Available now
UCLA campus
Please download the SOUNDWALK app prior to your arrival and allow the app to use your location when prompted
This special UCLA campus edition of SOUNDWALK is presented by the Student Committee for the Arts in association with CAP UCLA. It joins CAP UCLA's ongoing presentation of the full-scale SOUNDWALK in Los Angeles' Griffith Park, which is also accessible through the app.
---
Ellen Reid, Composer and Sound Designer
Presented in Los Angeles by UCLA's Center for the Art of Performance (CAP UCLA)
Eclipse Projects - Producer
ECHOES.XYZ - App Design and Development
Playtime Studio, Los Angeles - Art
Daniel Neumann - Audio Engineer
Nadia Sirota - Remote Recording Producer
Nikolás Ixyar McConnie-Saad - Production Coordinator for Kronos
Music performed by: Kronos Quartet: David Harrington, violin; John Sherba, violin; Hank Dutt, viola; Sunny Yang, cello
SOUNDWALK Ensemble: Alex Sopp, flute; Joshua Rubin, clarinet; Hideaki Aomori, saxophone; Rachel Drehmann, horn; Riley Mulherkar, trumpet; Sidney Hopson, percussion; Kyle Poole, drums; Ashley Jackson, harp; Mathis Picard, piano; Ellen Reid, synthesizer; Eliza Bagg, voice; Mona Tian, violin; Nadia Sirota, viola; Gabriel Cabezas, cello; Russell Hall, bass
Ellen Reid SOUNDWALK was co-commissioned by the New York Philharmonic, Saratoga Performing Arts Center, Wolf Trap Foundation for the Performing Arts, Mann Center for the Performing Arts in association with The Fairmount Park Conservancy, and the Britt Festival Orchestra.
Ellen Reid SOUNDWALK is made possible in part by the support of Mindscapes, Wellcome's international cultural programme about mental health.
Funds in support of CAP UCLA's Griffith Park presentation provided by Fariba Ghaffari, Kiki and David Gindler, Raulee Marcus, and Marla Mayer and Chris Ahearn.
Kronos Quartet appears courtesy of Kronos Performing Arts Association
Janet Cowperthwaite, Executive Director
Mason Dille, Dana Dizon, Sarah Donahue, Reshena Liao, Kären Nagy
Ellen Reid Music (ASCAP) Worldwide rights administered by Soundrights Music (ASCAP), a division of Modern Works Music Publishing
All music ©2020-2021 Ellen Reid