Renderings

Opening September 2023
Located near the UCLA campus on Westwood Boulevard, the UCLA Nimoy Theater is a reimagining of the historic Crest Theatre as a flexible, state-of-the-art performance space.
Named for artist, actor, director and philanthropist Leonard Nimoy, The Nimoy will immerse audiences in a profoundly engaging experience of live performance — while providing contemporary performing artists from Los Angeles and around the world expanded opportunities to develop and present new work.
Plan your visit
UCLA Nimoy Theater
1262 Westwood

Boulevard
Los Angeles, CA 90024
Parking is located at 10866 Wilshire Blvd. The entrance to the parking lot is on Glendon Avenue, directly to the left (north) of the Los Angeles Public Library, Westwood Branch. As you exit the parking structure, it is just a short walk to the venue along Wilshire Blvd or Wellworth Avenue. 
Enter through either of the two entrances marked VISITOR. Upon arrival, take a ticket from the automated booth, enter and park anywhere in the structure that is not marked RESERVED.  For evening performances, $3 parking begins at 5 pm. For matinee performances, $3 parking begins at 11 am. Entering before those times will incur the $30 day parking fee.
Patrons have the option to pay their ticket at the pay station as they are exiting the lot or pay at the exit gate, however you are encouraged to pay as exiting the structure to save time after the performance.
Our Box Office at The Nimoy opens two hours before performance time. You can walk up for any questions about tickets or to make purchases. Please note that the box office is cashless, but we accept all major credit cards. 
Those twenty-one and over with valid ID can choose from a selection of beer, wine and mixed beverages. Water, soda and coffee are also available to purchase. We accept all major credit cards and cash.
Face coverings: It is strongly recommended but not required that you wear well-fitting face masks in indoor spaces. 
Contactless ticketing: We strongly encourage all guests to purchase tickets online in advance. All tickets will be delivered by email from the UCLA Central Ticket Office following your purchase.
Hand-sanitizing stations and cleaning protocols: The theater facility is cleaned after every event. Hand sanitizing products are available in the lobby and restrooms.
COVID-19 symptoms: If you are experiencing any COVID-19 symptoms prior to a CAP UCLA performance, please stay home. We will exchange or refund your ticket. Everyone, including the artists, will thank you.
An inherent risk of contracting COVID-19 and other contagious diseases remains present in any public venue. CAP UCLA cannot guarantee that you will not be exposed to or contract COVID-19 during your visit. When coming to UCLA or a CAP UCLA venue, patrons do so at their own risk of exposure.
Accessible seating:  Accessible seating is located at the cross-aisle. Nimoy House Staff are happy to assist any guest to their seat upon arrival at our front doors via wheelchair service. House staff upon request will happily take any guest to a chosen seat via a wheelchair.
Assistive listening: The Nimoy is equipped with an assistive listening system. To check out a headset, please provide any member of the house staff with your driver license.
Accessible parking: There are two accessible parking spaces located on each level of the parking lot.
Please contact info@cap.ucla.edu for any additional questions.
Late seating: There is no late seating for performances at our venues unless specifically authorized by individual artists in advance of the performance. In that event, late seating will occur only at a suitable time, at the discretion of the house staff. Refunds on parking and tickets for latecomers will not be accommodated. No advance notice will be provided for any deviation from the late-seating policy, so all ticket holders are advised to arrive fifteen to twenty minutes before curtain.
Photography: Photography, video and the use of any recording equipment, including smartphones, is strictly prohibited at all times in CAP UCLA's venues. Press photography must be approved in writing by a CAP UCLA representative. Send requests to cover an event in advance to our press team.
Cell phones: All devices must be silenced before the start of the performance.
Children: Children over the age of five are welcome to attend most events, and regardless of age, they must have a ticket. Infants on laps are not permitted. Inquire about the age appropriateness of specific events when purchasing tickets.
FAQ
Yes! The new venue acquisition was made possible by a generous gift from Susan Bay Nimoy and was named the UCLA Nimoy Theater to honor the legacy of her late husband, Leonard Nimoy.
The Nimoy is a rehabilitation of the UCLAN Theatre, which opened on Christmas Day 1940, and was likely named for its proximity to UCLA. In 1955, the UCLAN was renamed the Crest Theatre and, in the late eighties, theater designer Joseph Musil restored the Crest with an Art Deco inspired renovation and added stylized murals of Hollywood and Westwood landmarks. The Nimoy's restoration carefully preserved many of Musil's features.
The Nimoy will offer CAP UCLA an accessible, off-campus space for projects that require intimacy.
There are several ways to contribute!
Make a gift: You can make a gift today of any amount to support the campaign.
Become a founding member: You can become a founding member of The Nimoy by making a gift of $5,000 or more to name a seat. Each named seat will have an engraved plate with the name of your choosing.  The seats are distributed throughout the rows of fixed seating, and donors can select their seat location on a first-come, first-served basis.
Other venues
Image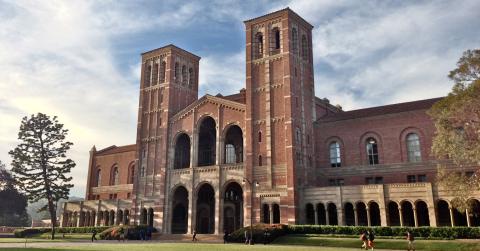 Image