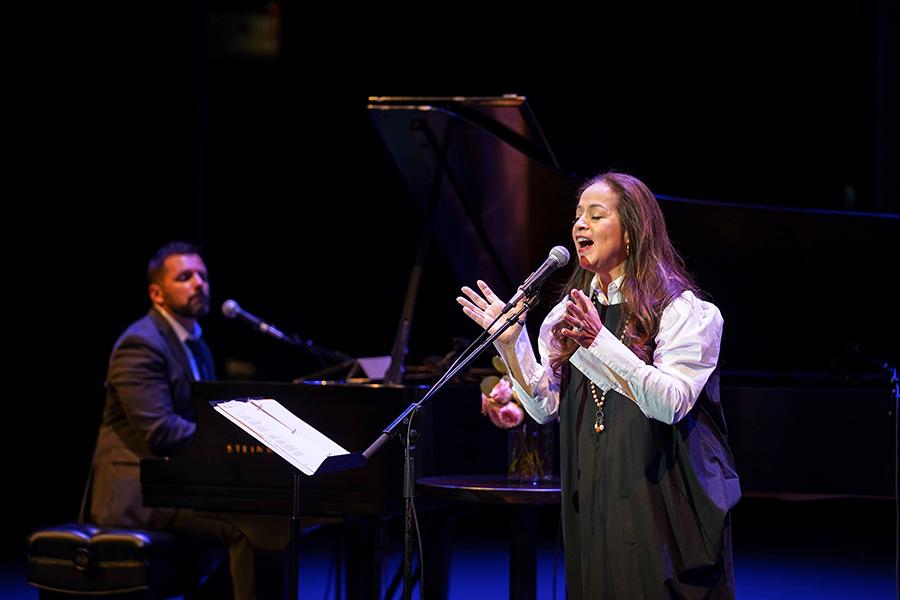 Grammy Gold in the Spring Season
Music lovers are abuzz as the 65th Annual Grammy Awards approach with an exciting roster of nominees who represent the very best in contemporary music. This year we'll be rooting for recent CAP UCLA performer Cécile McLorin Salvant, who is nominated for Best Jazz Vocal Album and Best Arrangement, Instrument and Vocals (with Sullivan Fortner). As we look ahead to the spring season, we're thrilled to welcome even more Grammy artists to our stages.
Perla Batalla
Performing with the legendary East L.A. Chicano rock group Quetzal, Perla Batalla will bring her Grammy-nominated musical stylings to Royce Hall on April 29 at 8 pm. Though music has been present throughout Batalla's life — her family owned a popular record shop — Batalla first gained widespread recognition as a back-up singer for Leonard Cohen before breaking out into a successful solo career.
Quinteto Astor Piazzolla
This Latin Grammy Award-winning ensemble is the quintessential interpreter of the music of the late, great Argentine composer and tango legend Astor Piazzolla. Founded by Piazzolla's widow in 1998 to promote and preserve his musical legacy, Quinteto Astor Piazzola's members are virtuoso musicians whose mission is to share Piazzola's music with a new generation. Quinteto Astor Piazzolla will deliver their fresh interpretations of the maestro's unique sound to Royce Hall on May 11 at 8 pm.
Bryce Dessner of Dream House Quartet
Known for his work with The National and composing scores for such films as C'mon C'mon and Bardo, three time Grammy-nominee and two time winner Bryce Dessner joins David Chalmin and Katia and Marielle Labèque to form Dream House Quartet. The two piano / two guitar combo Dream House Quartet fuses decades of musical mastery of classical and contemporary forms. Don't miss their Royce Hall performance on April 30 at 8 pm to hear newly commissioned works from Thom Yorke, Phillip Glass and more.