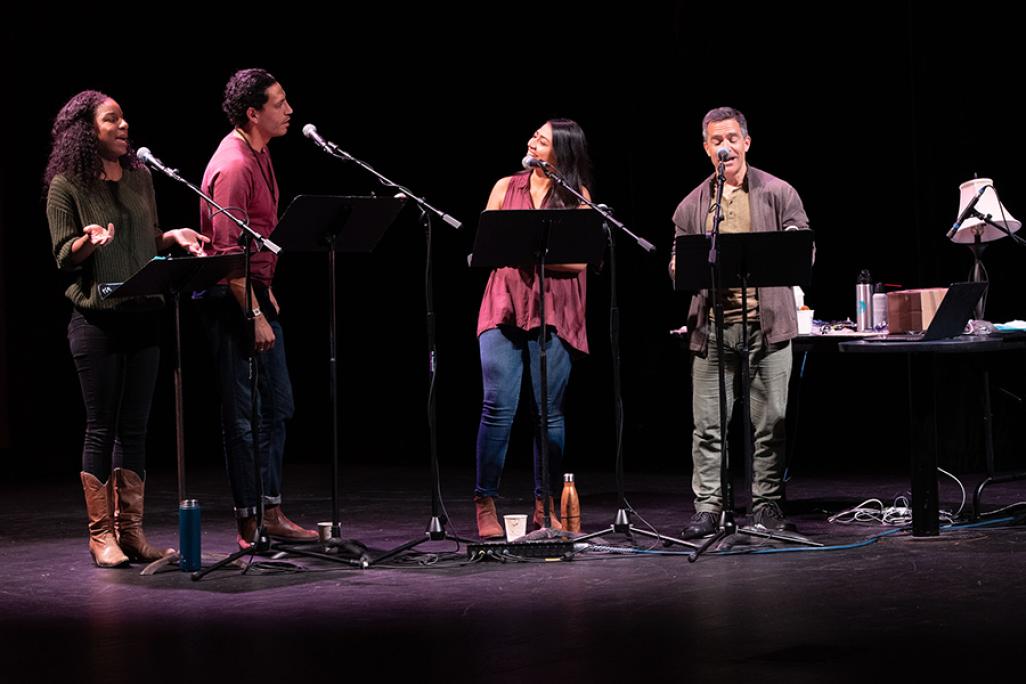 Arms Around America: The Podcast
"Dan Froot is both imaginative and unclassifiable . . . a dancer, storyteller and actor who could be puckish one moment and poignant the next."  — the New York Times
---
Arms Around America (AAA) is a community-based theater project investigating how Americans enact fear, power, identity, loss, and love through our relationships with guns. The foundation of the project is six book-length oral histories, conducted by Dan Froot and Company, of diverse American families whose lives have been shaped by guns. Award-winning performance artist Dan Froot and actors/collaborators Donna Simone Johnson, Christopher Rivas, Natalie Camunas and Justin Alston will perform scenes inspired by the stories of two Southern California families and rendered into an evening of community dialogue and "stunning theater" by the Company, with live music composed by Julio Montero of the band Cuñao.
Staged in the style of radio theater, four actors voice dozens of characters, while a "foley" artist (Froot) performs live sound effects with an eclectic collection of everyday objects. To complete the sonic texture, the entire performance is accompanied by an in-house band. 
Arms Around America: The Podcast, the first theatrical iteration of these families' stories, gives audiences insight to DF&Co's development process. The complete evening-length live performance of Arms Around America will premiere at CAP UCLA's soon-to-launch Nimoy Theater in the fall 2024. 
Arms Around America is designed to promote empathy and dialogue by positioning audiences "between the ears" of participating families. This is the latest project for Dan Froot and Company, a diverse group of artists whose genre-defying work can only be described as "imaginative and unclassifiable."
---
Funds provided by the James A. Doolittle Endowment. 
Arms Around America is a National Performance Network (NPN) Creation & Development Fund Project co-commissioned by The Myrna Loy, Miami Light Project, UCLA's Center for the Art of Performance, and NPN. The Creation & Development Fund is supported by the Doris Duke Charitable Foundation, the Mellon Foundation, and the National Endowment for the Arts (a federal agency). For more information: npnweb.org
Health and safety
Please check our Plan Your Visit page for the latest CAP UCLA policies.