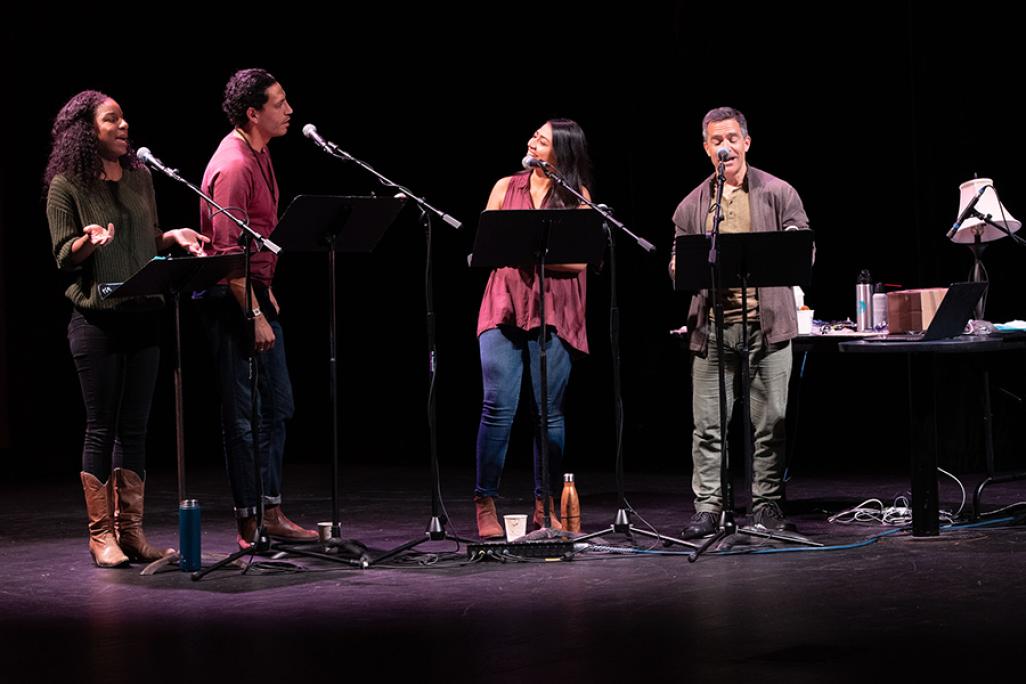 Arms Around America: Live Podcast Recording
"Dan Froot is both imaginative and unclassifiable . . . a dancer, storyteller and actor who could be puckish one moment and poignant the next."  — the New York Times
---
On June 22, be a part of the Arms Around America podcast. Dan Froot & Company will perform several scenes based on stories of real families whose lives have been shaped by guns. Presented in the style of traditional radio theater, four actors voice dozens of characters and create "foley" sound effects with an eclectic collection of everyday objects. You'll get to participate in the podcast recording, which also includes dynamic discussions with special guests, and live music from Julio Montero of the band Cuñao. You will be immersed in lively debates and get insight into Dan Froot & Company's development process. 
About Arms Around America
This unique community-based theater project investigates how Americans enact fear, power, identity, loss, and love through our relationships with guns. Based on oral histories conducted by Dan Froot & Company of diverse families from around the country, this will be an evening of thoughtful conversation, beautiful music and stunning theater. The recording from this evening will hit your favorite podcast platforms this coming Fall and the evening-length theatrical premiere will take place at The UCLA Nimoy Theater in November 2024.
---
Funds provided by the James A. Doolittle Endowment. 
Arms Around America is a National Performance Network (NPN) Creation & Development Fund Project co-commissioned by The Myrna Loy, Miami Light Project, UCLA's Center for the Art of Performance, and NPN. The Creation & Development Fund is supported by the Doris Duke Charitable Foundation, the Mellon Foundation, and the National Endowment for the Arts (a federal agency). For more information: npnweb.org
This program is made possible with funding by the New England Foundation for the Arts' National Theater Project, with lead funding from The Andrew W. Mellon Foundation and additional support from the Doris Duke Charitable Foundation, and by a grant from the City of Los Angeles Department of Cultural Affairs, and by the Los Angeles County Board of Supervisors through the Los Angeles County Department of Arts and Culture.
Health and safety
Please check our Plan Your Visit page for the latest CAP UCLA policies.